Newborn to 18 months

18 months to 3.5 years

3 years to 5 years

4.5 to 7 years





Village: Do Si Do

 

Age Range: Newborn to 1½ years.

Class Structure: 9-weeks.

Class Length: 45 minutes.





Pick up your baby and dance. Dance the Charleston, the Tango, and the Cha-Cha and learn why dancing with your baby helps develop vital learning skills—from head-to-toe. In this class, play a variety of baby appropriate instruments, a dance with fun props. Why all the rhythm and movement? When Baby emerges from the womb and the familiar, steady sound of mother's heartbeat, their brain begins scanning the apparently disorganised world for patterns – elements of consistency to help him make order out of the chaos. Rhythmic activity provides the recognisable, predictable and patterned information Baby wants to latch on to. Through the movement in Do-Si-Do, baby is gaining an awareness of where his body begins and ends, what it is capable of doing, and how to negotiate gravity – no small feats! Baby has much to gain from the rhythm and dance play in this unit.



Home Materials: a CD with songs from class, Do Si Do story book, Do Si Do art banner, and an age appropriate instrument.
---
Our Time: Fiddle Dee Dee

Age Range:  1½ to 3.5 years.

Class Structure:  18 weeks.

Class Length:  45 minutes

We'll meet many animal characters in our books, activities, and songs—each specifically chosen for a toddler's emerging interests and physical skills. With silly, bumpy lap bounces we'll help toddlers develop rhythm while further developing their evere merging language skills. With a special stringed instrument emphasis in the music from class, parents can bring home the violin, cello, and orchestra sounds to help their toddlers stay happy and engaged learners at home, too.

Home Materials: 2 Music and Movement Books, a Home Activity Book, a double Home CD, A Special Child's Carry Bag, and a pair of fiddle sticks.
---
Imagine That: Cities; Busy Places, Friendly Faces




Age Range:3 to 5 years.


Class Structure: each 18 weeks.


Class Length: 45 minutes.




In this unit, footpaths, lifts, skyscrapers, and world travelling photographers are the theme. Learning through the pretend play that pre-schoolers adore, we'll be rhythmically busy playing storytelling games and handcrafting city "buildings" from cardboard at home so we can make a cityscape in class! Plus every activity has some at-home adaptations so the parent can take part in the learning. With a pair of resonator bars as a featured instrument, and a multicultural, jazzy collection of music, pre-schoolers will develop the social and intellectual skills they'll need in school.

Home Materials: A Cities Game, 2 Literature Books, a Pair of Resonator Bars, a Family Activity Book, a double Home CD, and a backpack (1st semester only).
---
Young Child

Age Range:5 to 7 years.

Class Structure: 18 weeks,


Class Length: 45 minutes.

Kindermusik Young Child is a unique opportunity to develop all aspects of the young budding musician.  This first semester explores many foundational elements eg. voice development, rhythm, notation, musical symbols and simple pre-keyboard skills.  Children explore and learn to play many instruments throughout the 2 year course including rhythm sticks, resonator bars, drums, glockenspiels, dulcimers, and recorders. They build critical vocal development skills through singing, games, listening and echoing activities. For your enthusiastic musician, Young Child provides a pressure-free developmentally appropriate transition, where children can musically succeed before taking on specific instrumental or vocal instruction. In small, movement-oriented classes, your child develops their greatest instrument - the voice - while they learn the symbols, vocabulary, and foundations of music making.

At Home Materials: Children's folder with stickers and Music At Home cards, Family Songbook, glockenspiel, CD of music from class, canvas bag and games bag.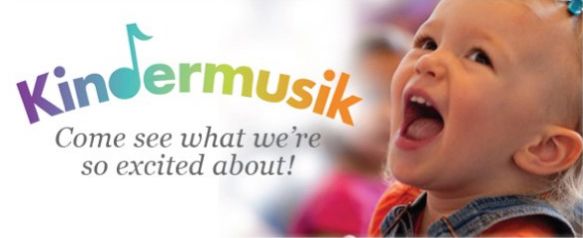 Kindermusik ~ "A good beginning never ends"